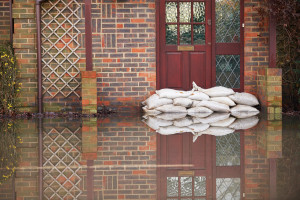 It's great to see the snow melting. We love hearing the birds chirping. And, we're happy to see trees and plants begin to bud.
But it's not all roses in the spring. Springtime often brings with it drainage and water leak nightmares!
Here are some tips to make sure water issues don't ruin your spring!
Check your sump pump.
Get into the habit of frequently checking your sump pump. Most people don't realize their sump pump failed, until there are a few inches of water in the basement. Periodically lift the float and ensure the float adjusts freely and turns the pump on. Make sure that lime and calcium build-up isn't preventing the float from moving. If you're unsure of when the last time you replaced the sump pump was, it might be time for an update. Replacing your sump pump can save you thousands of dollars and provide some peace-of-mind!
Look for standing water outside.
Walk around the perimeter of your home and search for standing water and unusually wet ground. This is sign there is a soon-to-be problem. Standing water has to go somewhere, you don't want it in your basement. Make sure the ground around your home slopes away from the house. If it does and you still see standing water, consider calling a professional to examine your drainage system. Our drainage experts can offer a free consultation.
Clear gutters and downspouts.
Over the fall and winter, leaves and other debris can clog gutters and downspouts. Examine all the gutters and spouts on your house to ensure they drain properly. Also be sure that downspouts are either tied into your drainage system or empty far enough away from your home. If your downspout empties right next to your home, you're asking for water problems.
Consider foundation waterproofing.
If you're battling a damp basement with mold or mildew, it may be time to consider foundation waterproofing and a more effective drainage system. This will help pull water away from your foundation and ensure it doesn't seep into your basement to cause a whole host of issues.
Wet yards. Bad drainage. Seeping water. Moldy basements.
We've seen it all … and we've fixed it all too. If you're dealing with water issues or want to make sure you never have to, contact TJ's Plumbing today. Our plumbing and drainage experts will make sure your spring isn't ruined!